Awakari - Where a River Cuts Through It
Our expeditions are more in-depth multi-day experiences for those who prefer to go deeper. A special 5,000 acre piece of Maori land with a unique mix of Maori culture and some of the best foraging (trout fishing, sika deer hunting, eeling and plant foraging) in the world, let alone the country. Your guide is a Search and Rescue tracker, Maori chef, crack shot and all around good bloke.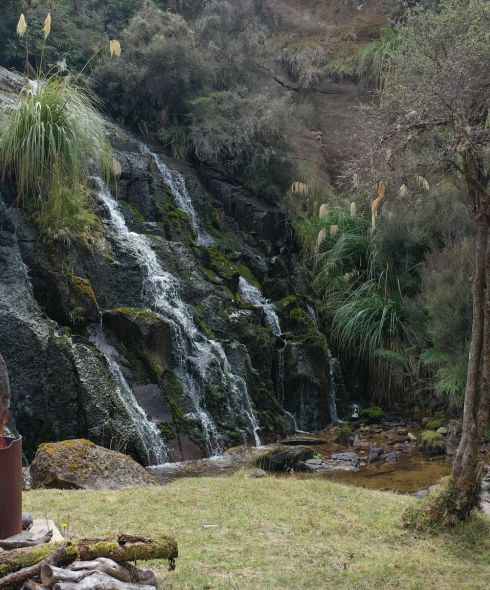 Our special tented camp is put together with state of the art expedition camping gear. This is not glamping, but it is comfortable, romantic expedition camping in a special place doing special things with special people.
We've been working with Tom Loughlin for over ten years. In that time he has managed this 5,000 acre block of Maori land with conservation principles uppermost in his thinking. The local sika deer population has been managed together with leading conservationists resulting in one of the healthiest groupings of that deer in the world. Ditto with the barely touched trophy trout stream. The eel population (a long-time Maori staple) has always been healthy.
Prolonged time here will incorporate a Maori-centric view on best practice for managing land. It will include authentic Maori cuisine. It will include exploration of this special part of the world. And it can but does not necessarily need to include some of the best Sika deer hunting and trout fishing in the world.
Over the years, Tom has used this land to mentor youth as to the importance of Maori principles in conservation. And with our clients that has transferred naturally to teaching. We can use this backdrop to teach tracking; trapping; shooting; meat preparation; fishing; and cooking. On request we can of course extend this line-up.
And from Tom himself:
My philosophy at Kai Waho is a simple one, deliver the experience in a natural manner that is not normally for sale. The response is reflected in the positive reaction of the Manuhiri 'Visitors' the appetite for real 'IS REAL' 'This is just what we have been looking for' is a common reflection. All of my personal experiences have been exactly this, creating an emotion, a memory that is still in me years after experience.
The Awakari Expedition as an opportunity to explore how important relationships and life's values are. All key ingredients in 'Te Ao Maori' The Maori world. The Awakari Expedition is not only the tented camp where you will eventually arrive, but also the journey you take to get there, the range of activities as you make your way across Ngati Tuwharetoa tribal land, makes the whole journey itself the destination. A destination realised only when you join us and become one of us according to our tradition..